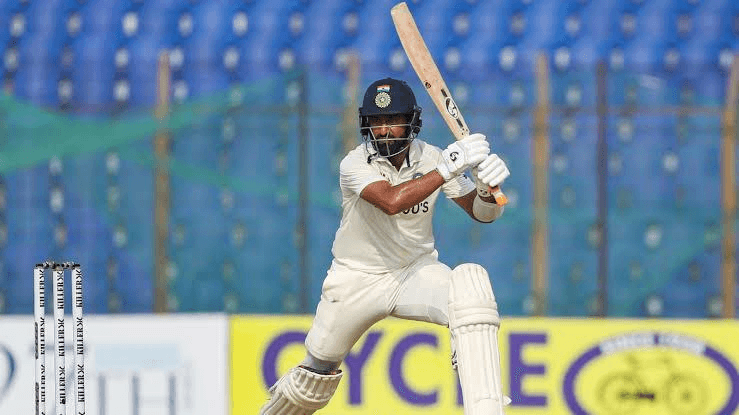 TV Deni has won the Nagpur Test match in the Border Gavaskar Trophy and now the
second Test match of the Border Gavaskar Trophy will start from 17th at the Arun
Jaitley Stadium in Delhi and Cheteshwar Pujara is about to become a record holder on
this ground. Team India can also become number one And if you look at the record of
Team India on the ground of Delhi, then it is very good against Australia, first of all tell
you that how Cheteshwar Pujara is going to score a century because Cheteshwar
Pujara will become the first player in India's cricket history to become the first Test
match player, Complete it.
Cheteshwar Pujara has a golden chance to complete 100th Test match and Sachin
Tendulkar has played maximum 200 Test matches when it comes to most Test
matches for India. Then comes the number. Rahul Dravid, who is currently the head
coach of Team India, played 163 Test matches for India. VVS Laxman 134 Anil Kumble
132 Former Captain Kapil Dev 171 Sunil Gavaskar 125 Dilip Vengsarkar 116 Sourav
Ganguly 113 Virat Kohli 105 are still playing. Ishant Sharma has played 105, Harbhajan
Singh 103 and Virender Sehwag 103 Test matches. That means you will become 12th
player Cheteshwar Pujara who played short matches for India. Cheteshwar Pujara's test
career is fantastic. If we also see the Test career, then in the 99 Test matches that have
been played so far,
7021 runs have been scored. The highest not out portion of 201 averages above 40.
There are 19 centuries and 34 half-centuries and Cheteshwar Pujara's century, why are
we saying that it is sure because Cheteshwar Pujara must play in the Delhi Test match.
Cheteshwar Pujara Narco could not do much in the Test match and batted only one
innings. But Rohit Sharma will definitely feed them in the Delhi Test match and Rohit
Sharma may not change his playing eleven.
If you see the possible playing XI of Delhi Test, then you will see Rohit and Lokesh
Rahul opening in it. Cheteshwar Pujara, Virat Kohli, Suryakumar Yadav as
wicketkeepers, Akshar Patel, R Ashwin, Mohammed Shami and Mohammad Siraj
means that the winning combination Team India had in Nagpur, we can see the same
winning combination at Arun Jaitley Stadium in Delhi as well and this team can shine.
Now how can India become the number one team.
If you tell We will be benefited because the number 11 team has reached close to the
victory. India will become the number one team in Tests from Delhi itself. Currently the
number one team in ODIs and T-20s, India is 126 in Australia and 115 in India.
With which the way to go to the final of the championship will become easier and will
reach very close that once again in the voltage temperature file, if we give up to 10, then
overall, Cheteshwar Pujara, who will become the record holder in Delhi's Dangal game,
will become the record holder. With this, Team India can become number one because
in Delhi yet
f you look at the test matches between India and Australia, then out of seven matches,
three have been won by Team India, three are crying and one match has been lost by
Team India. The last Test match was also held in the year 2013. That too was won by
Team India, so we can say to you that Team India will win in Delhi's Dangal and will also
become number one. Pujara's century will also be made. Whether this century came
from his bat or not, but short test match in the record book.