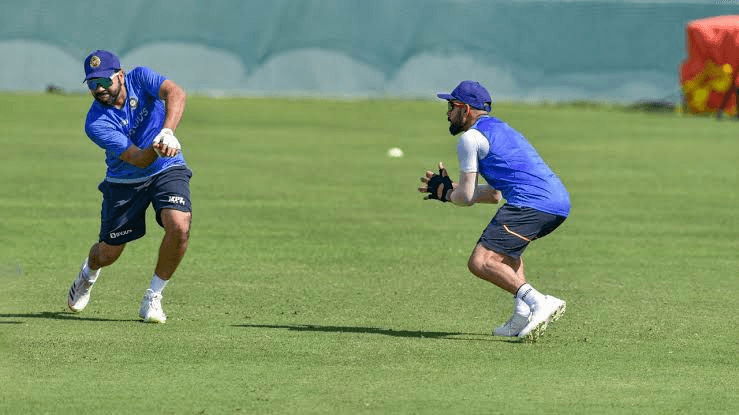 Delhi's Arun Jaitley Cricket Stadium, which was once also known as Feroza Kotla.
Ready to witness the batting of your favorite cricketer Virat Kohli once again. To say,
Jaitley Stadium is also Virat's home ground. And after 2017, Kohli will now be seen
playing this test match. Last time in Delhi, Virat scored a double century while playing
as Team India captain.
Obviously, once again a big innings is expected from Transco Virat. But talking about
Virat himself, he could not score a century in Test cricket since November 2019. Virat
has now made special preparations to end this drought at his home ground. If we look
at Virat Kohli's training before the Delhi Test against Australia, then Virat Kohli reached
the stadium half an hour before other players of Team India and he started his batting
practice first according to the sources. Virat's first focus is on spin bowling in practice,
for which he was seen practicing on pitches with foot marks. During this, Virat also
kept batting coach Vikram Rathore with him. Virat prepared passport meat condition
and did batting practice.
During this, Virat especially looked ready to do batting practice against the left-arm
spinners. Let us tell you that for about 1181 days in Test cricket, the fans of Virat Kohli
are waiting for his next century. During this period of more than 3 years, Virat has
played 21 Test matches, but neither at home nor abroad, Virat's bat has not been able
to score a century. In which Test I played Virat in 37 innings he scored 929 runs with a
modest average of 25.8 and just six half-centuries. Alam is that the poor performance
has also affected the batting average of Virat's overall Test career. Virat's batting
average has become the lowest in 75 months, which is just 48.68 is left. It can be
expected that Delhi can be that ground. As far as waiting for Virat to play 38 meters inin, he will definitely get success when Virat will get success because Virat makes runs
from his heart in Delhi's Arun Jaitley Stadium.
Playing at his home ground, Virat has scored 467 runs in three Test matches including
a double century. In the same way, Virat has recently scored four centuries in the last
few months, combining T20 cricket and ODI cricket, and Virat is waiting to score a
century only in Test cricket, and if this feat is achieved in Delhi Test, Virat's name will be
recorded. There can hardly be any better news than this for the fans of India