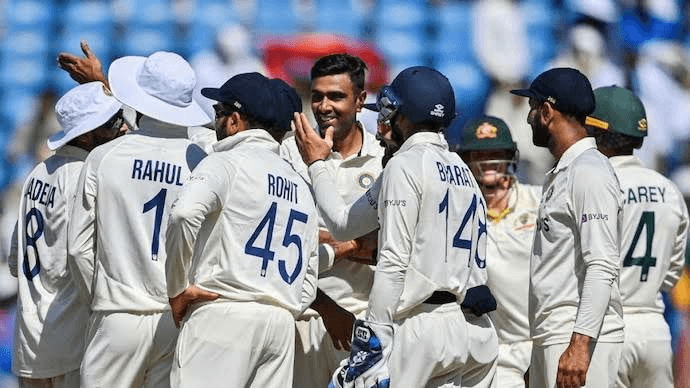 So as expected,
Team India has defeated Australia in Nagpur Test in just two and a half days and with
this, Team India has taken a zero lead in the Border Gavaskar Test series. It was
expected that one-sided matches would be won and a similar performance was seen
because in the first innings, Australia was all out for one hundred and seventy-seven
runs, in the second innings also, the Australian batsmen went on stacking one after the
other and the Australia scoreboard But the figure of 100 was not hidden, the fact is that
the Australia team has made a record of the lowest score in the second innings, with its
performance against India in India, if we talk about the performance of Australia or the
victory of Team India. If we do, Australia has the lowest score of eighty-three runs in
Test cricket against India, although this Test match was played in Melbourne in 1981,
but in India, Team India defeated Australia in Mumbai in 2004 for just ninety-three runs.
was dismissed and Nagpu.
In the second innings,
Australia was all out for only ninety-one runs in the Test, although there were many
heroes of Team India's victory, but most of all, the star performance of Team India's
victory will be talked about, where captain Rohit Sharma scored one hundred and
twenty runs in the first innings. By making Team India a strong foundation to reach the
big score, while Ravindra Jadeja and Akshar Patel also brought Team India to a score of
four hundred in the first innings with their half-centuries, Team India scored two
hundred on Australia in the first innings. Made a lead of twenty-three runs, under the
pressure of which Australia's second innings looked completely disintegrating. Barring
Steve Smith for Australia, none of the batsmen could even cross the figure of twenty.
Usman Khawaja scored only five runs, David Warner scored ten runs. Breed seventeen
and Alex Carey was dismissed after scoring just ten runs R Ashwin took five five
wickets in the second innings for India With this R Ashwin also became India's offspinner who took the most wickets in the Border Gavaskar Trophy broke Harbhajan
Singh's record in