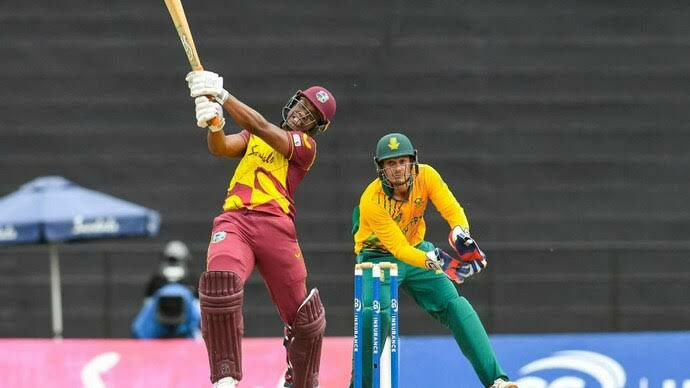 In the first T-20 match, West Indies dusted South Africa in 18 balls, the storm of the
Caribbean player came. The first T20 match was named after him. This exciting T20
match was currently held for 11 days. But in this match it rained fours and sixes.
Got to see and West Indies won the one-sided match. First of all leave you and show
me. After that, we will tell you how the players of West Indies brought the African team
to their knees and who is the player who played a stormy innings in 18 balls in the first
T20 match.Talking about the match, the match started with a delay due to rain and
batting first due to both numbers scored 131 runs at the loss of 8 wickets, in which
David Miller scored four fours and three sixes in 22 balls from 48 balls. Played the
innings coming in the end.
Facing 5 balls, hit 2 sixes, hit a four and played an innings of 18 runs, due to which
South Africa's team was able to score 131 runs at the loss of eight wickets. At 11, West
Indies needed 32 runs to win the first match. Here Singh scored 23 runs in 8 balls,
while Johnson Charles scored 28 runs in 14 balls. But Captain Roman Pogal's storm
came from here. The captain played a captaincy innings to win his team by scoring a
four and scoring 43 runs and West Indies won the first T20 match. at the loss of wicket
Scored 132 runs and that too when 3 balls were left i.e. 11 balls were not completed.
West Indies won the match in 10.3 with three wickets in hand. It was the former
captain who managed to win the West Indies first match with the ball. His storm
came. Scored 43 runs in 18 balls with the help of 5 sixes and a four. But if you get the
team here also, then you will be able to win three T-20 matches. West Indies won the
first match. It has to be seen how this Caribbean player performs in the coming 2
matches.
Here the number of runs is not sure.