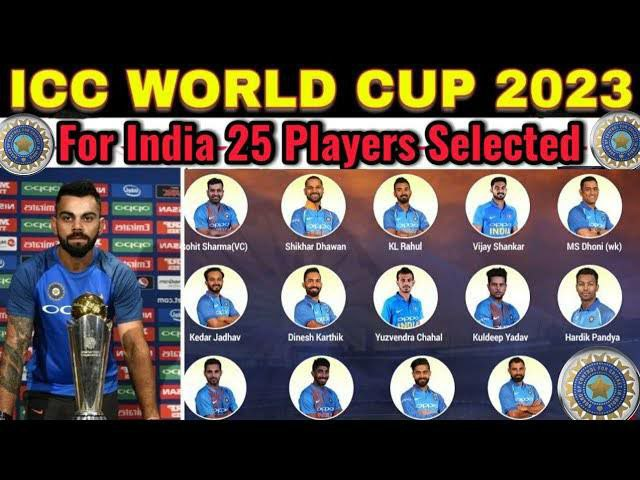 Team India's coach Rahul has said a big thing about the ODI World Cup to be played in
the month of October 7. According to Rahul, the Indian team management has
identified 17 to 18 players for the upcoming World Cup who can be a part of Team India
during the World Cup. According to Rahul Dravid, the upcoming IPL season 16, Day 17
to 18 will be very important for the players Because today the World Cup team can also
be finalized. Rahul Dravid has given this information to the media before the third ODI
against Australia. Whatever may be the outcome of Rahul Dravid's team preparation
but three nine matches have given us a lot of clarity and we need to continue this post
even further. it's all different Want to make sure that if needed during the World Cup.
We were able to change our combination. We also want to ensure that there are no
surprises during the World Cup. Significantly, 20 to 25 players were shortlisted for the
upcoming World Cup.
Rahul Dravid himself wanted to prepare the players for the World Cup 2023 Team India
by taking this strategy of Team India and now Rahul is talking about the identity of the
players. Although Rahul Dravid has not done this thing yet. Which 17 to 18 players are
included in Team India's fast bowler Jasprit Bumrah and wicket-keeper batsman
Rishabh Pant or not because both the players are recovering from red injury. But Rahul
Dravid has definitely given his reaction regarding the injury of Suresh playing at number
4 position.Obviously Suresh's injury is unfortunate. He is probably one of those people.
Those who bat at number four, however, I am not too worried about the performance of
Surat included in the team in their place. He got out on two very good balls.
Team India players against Australia will get a chance to play in the IPL Season Six
team starting from 31st March. After the IPL season training, which lasted for about 2
months, Team India will also do some foreign tours before the upcoming World Cup,
but Indian players will get less chance to play ODI cricket in domestic conditions before
the World Cup.
Because after IPL test team India first to play WTC final then team India has to tour
Ireland West Indies and then Pakistan for Asia cup. In case of no Asia Cup in Pakistan,
this tournament can be organized in Sri Lanka.

Before the Raj World Cup 2023, Team India will play an ODI series in India in September
according to Australia. Obviously Rahul Dravid World Cup 2023. Have become very
serious about the preparations. In this way, in the season of IPL Players performing
well can get a place in the World Cup 2023.