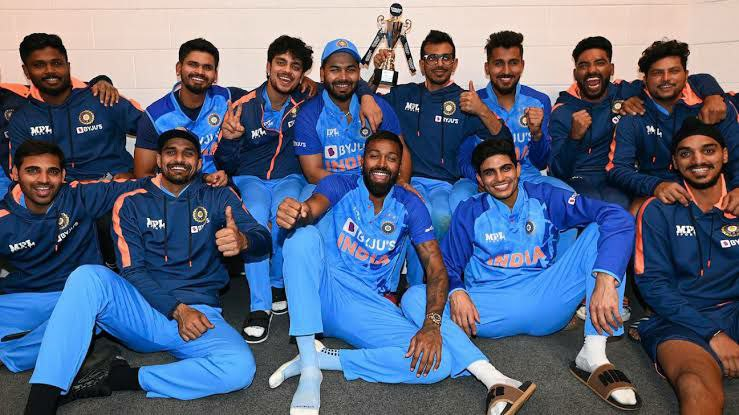 Australia was the winning team against Team India in Visakhapatnam ODI. But if it is
said that Team India once again succumbed to its old weakness, then perhaps it is also
not wrong because only one left-hander from Australia, Tej Mitchell Gendtark, was able
to destroy Rohit and company. Single-handedly in Visakha Patna, the entire team India
was dismissed and sent to the pavilion and many old wounds of Team India were
refreshed again for 1 year. The fact is that whatever the format may be. It is now clear
that the Indian batsmen have struggled on most occasions against the quality left-arm
seamer
For example, in the final match of the Champions Trophy 2017, Pakistan's Mohammad
Amir proved to be the biggest reason for India's defeat. In that final match, it was not
Amir who got Rohit Sharma, Shikhar Dhawan and Virat Kohli all three out. Similarly, in
the semi-finals of the 2019 ODI World Cup, Train Bolling of New Zealand had performed
something similar
Shahid Afridi of Pakistan also played a key role in Pakistan's victory against India in T20
World Cup 2021. Australian fast bowler Mitchell Starc has been in the nose of the
batsmen of Team India while playing in India. If seen, it has become clear that despite
millions of attempts, the efforts of the Indian batsmen to overcome the left-arm fast
bowlers have not been completely successful so far. everyone knows. This year, ODI
World Cup 2023 is to be played in India only in the month of October-November. In
such a situation, in order to tie down the Indian batsmen, all the opposing teams will
definitely make their strategy by bringing the left-arm fast bowler in their quiver.
That is, before the World Cup, if Team India does not get rid of the weakness of its
batsmen in time, then the Mission World Cup may also be in danger. Talk about the
good left-arm fast bowlers of all the big teams of the world in Modern Day Cricket,
where Australia's team currently has two good left-arm fast bowlers like Friendship and
Jason Behrendorff, and only South Africa and Wayne Coke. There are fast bowlers like
Parnell. The West Indies team also has good left-arm fast bowlers like Sheldon, Cottrell
and Kaul in Illegal. Apart from this Sri Lankan team has Dilshan Mat Hussain, England
has Sam Karan and this topless Pakistan team also has Shahid Afridi and Bangladesh
has good left arm fast bowlers like Mustafizur Rahman.
Before 2013, Team India used to have four good left-arm fast bowlers in the form of
Zaheer Khan, Irfan Pathan, RP Singh and Ashish Nehra. All of them have also played
together in Team India at one point of time. But in the last 10 years, Indian batsmen's
struggle against left-arm fast bowlers has become common.And the big reason for this
is the lack of practice of Indian batsmen against left arm fast bowlers. Team India
does not have good fast bowlers like Star Board and Shahid. Apart from this, the leftarm fast bowlers who have been playing in Team India include Khaleel Ahmed, Jaydev
Unadkat, Chetan Sakaria, 3 Natarajan and Arshdeep Singh.None of these is such a
bowler. Is permanent in duty or who can bowl continuously at a speed of 145
kilometers per hour. IPL has also given bowlers like Mukesh Chowdhary, Akash Singh
and Yash a chance for Indian batsmen to practice against left arm bowlers. But this
practice is not enough in front of tough competition of international cricket. Overall in
front of Team India. Before the Mission ODI World Cup 2023, once again the old
weakness has become a problem, whose time is Resolving, asking Team India captain
Rohit Sharma.