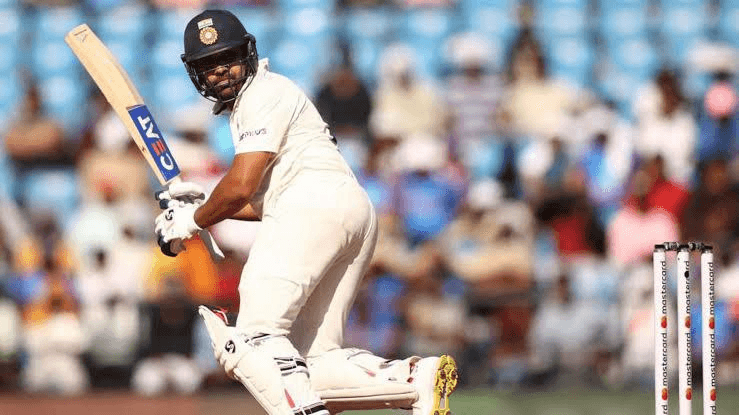 If the first day of the Nagpur Test is named after Ravindra Jadeja and R Ashwin,
then the hero of the first day of Team India is captain Rohit Sharma. It was seen that
not only as a captain but also as a batsman, there was a lot of pressure on Rohit
Sharma before playing in the Nagpur Test, but Rohit Sharma not only passed this test
well, but he also played for Team India till the end of the first day's play. Has created a
very strong position. As captain, he played an important role in reducing Australia to
177 runs in the first innings due to his excellent captaincy, while as an opener, when he
came to bat at the crease, he faced a difficult pitch. But on a difficult pitch, he made a
brilliant Atishi half-century and he is still not out till the end of the day's play, so how
was Rohit Sharma on the first day of the Nagpur Test, we also tell you the whole story.
In fact, when the Australian innings in the Nagpur Test Only
Got reduced to one hundred and seventy-seven runs, then there was only one question
in everyone's mind that how do the Indian batsmen face the Australian bowlers on this
difficult track, in the midst of these questions, came to open the innings for Team India
in a situation of pressure. Rohit Sharma and KL Rahul and Rohit started scoring runs as
soon as they took the crease. Rohit hit three fours in the first over of the innings and
then did not give any chance to the Australian bowlers to catch the rhythm. The result
was a struggle at the other end. KL Rahul is also doing it, trying to catch his rhythm
slowly in the midst of Rohit's fiery batting. Rohit Sharma scored a century in the third
match of the ODI series against New Zealand. Once again batted ODI style, he beat
Australian fast bowlers as well as spinners fiercely. Rohit Sharma completed his
fifteenth half-century of his Test career, facing sixty-six balls. In the twenty-third over of
the match, KL Rahul Rohit Sharma before getting out
Also gave a strong opening partnership with KL Rahul in the Nagpur Test. While playing
on home soil, Rohit Sharma's bat always scores runs in Test cricket. Rohit Sharma has
played thirty one innings of Test cricket in India so far. He scored one thousand seven
hundred and ninety two runs. In which he has a batting average of 74.7 points, this
average is more than any batsman playing at home after Australian legend Don
Bradman. Rohit Sharma's batting average was seventy-seven in thirty-one innings with
four thousand three hundred and twenty-two runs in fifty innings played on Australian
soil, while Australian batsman Marnus Labuschagne played thirty-seven innings in
Australia. I have scored two thousand three hundred and ninety-seven runs at an
average of seventy five. It can be said that Rohit Sharma's half century on a difficult
wicket in Nagpur is no less than a lottery for Team India.
Rohit Sharma scored his last century in Test cricket in September 2021. After seeing
Rohit's brilliant batting, now his fans are stuck on the second day of the Nagpur Test
where Rohit along with night watchman R Ashwin will open the innings on the second
day. Will start Rohit is currently not out on fifty-six runs, it can be expected that the way
Rohit is scoring runs, on the second day, his bat will definitely complete his 9 century of
Test cricket.