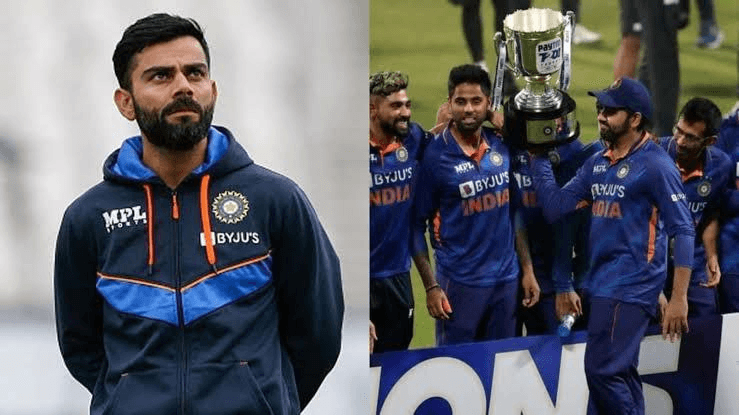 There is very big and very important news for the fans of Gabbar Hui Shama. Rohit
Sharma can make his name the biggest record of cricket in the third test match against
Australia starting in Indore from 1 month Could not do any work in cricket till date.
Mahendra Singh Dhoni has been the most successful captain of Indian cricket. The
most successful captain of Test cricket has been Virat Kohli, but Dhoni Virat, even any
cricketer of world cricket, be it Virat Kohli or Dhoni, has not been able to match Rohit
Sharma's record. If neither can, then what is the point? A big achievement of Rohit
Sharma which can be his name in Indore Test. 1 March is going to start in Indore. The
border between India and Australia is historic for India captain Rohit Sharma in his third
Test of the Test series. can be proved. If, as expected, Team India manages to win over
Australia in this Test as well, then Rohit Sharma can make a big record in his name.
The special thing is that Rohit Sharma's record will be like any cricketer in the world. In
the history of 146 years of cricket, they have not been able to make a name for
themselves.
Actually, Rohit Sharma has a chance to win five consecutive Tests as captain after
becoming the Test captain. Then Indian captain Mahendra Singh Dhoni and Pakistan
captain Babar Azam have won four consecutive matches. Rohit Sharma equaled Dhoni
and Babar's record by winning against Australia in Delhi. If Team India wins in Indore
also, then Rohit will leave behind Dhoni and Babar. Also, after getting the captaincy in
Case, he will become the first captain in the world to win five consecutive matches.
One can only hope for Team India's victory against Australia in Indore Test because of
India's record in Indore. Before this it was 100%. Prior to this, only two Test matches
have been played in India at the Holkar Stadium in Indore and India had won both these
Tests.
Along with the victory in the third Test against Australia, Team India will also formally
get an entry in the final of the World Championship. Although this will also be possible
with the draw result of the match. Talk about Rohit Sharma's captaincy record, after
getting the captaincy from Virat Kohli, Rohit has been the captain of Team India in Test
cricket till now. India has played 40 matches under Rose's captaincy. India played the
Mohali Test against Sri Lanka in March 2022 by an innings and won by 222 runs. In the
same Rohit's captaincy, India played against Sri Lanka in Bengaluru. second test match
won by 238 runs. Earlier, under the captaincy of Rohit, India defeated Australia by an
innings and 132 runs in the Nagpur Test. Whereas in Delhi Test also India won by 6
wickets against Australia. Although at the Holkar Stadium in Indore.
Team India will have their first encounter in Test cricket against Australia. Earlier in
2016, India had defeated New Zealand by 321 runs. And in 2019, India beat Bangladesh
by an innings and 130 runs in Indore itself.
Significantly, Team India is currently the number one team in the world in ODIs and T20s. Along with winning the Indore Test, they will formally become the world's number
one team in Test cricket as well. There is every hope that by the time the Indore Test
result comes, Team India will be the number one team in the world in all three formats
of cricket.and Rohit Sh.