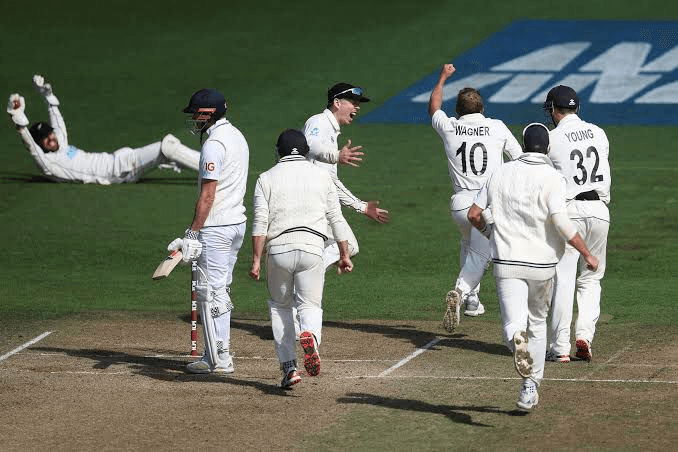 New Zealand pull off a thrilling 1-run win over England in the Wellington Test. The twomatch Test series between England and New Zealand ended in a 1- 1 draw with none. In
front of New Zealand, but the England team could only score 256 runs.
However, by the end of the fourth day of the Wellington Test, the game was completely
in England's grasp. Chasing the target, England had scored 48 runs for one wicket by
the end of the fourth day's play. But
On the fifth day of the match, in front of the New Zealand bowlers, England's batting
missed reaching the last place. In the second innings of England's match, Joe Root
was the top scorer by scoring 95 runs, while captain Ben Stokes made 23 more band
Fox scored 35 runs. For New Zealand. In the second innings, Neil Wagner took 4
wickets, Team Southee took three wickets and Matt Henry took two wickets. Let us tell
you that under the captaincy of Team Southee, New Zealand still has the victory of Roti
Test cricket. England had declared the first innings of the Wellington Test by scoring
435 runs for eight wickets, in response to which New Zealand's team was all out for 209
runs. After this, New Zealand got a chance to bat again while playing the follow-on and
during this time former New Zealand captain Kane Williamson's innings of 132 runs
became the reason for the return of host New Zealand in the match. New Zealand in the
second innings Scored 483 runs, in front of which there was a target of 258 runs to
win. Kane Williamson scored 132 in New Zealand's second innings. First of all, you will
get every news of cricket which is stolen. We keep it from our point of view till the
end.