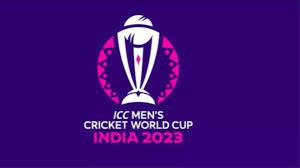 April 2, 2011, is the 2nd date in which it can be called a friend because after 28 years on
this date in 2011, Team India became the champion of the World Cup for the second
time and the ICC has once again made this date historic. On this very day, the ICC has
now launched the official logo of the 2023 ODI World Cup, and the special thing is that
the people who have launched the upcoming World Cup this time, the Indian culture,
tradition and the passion of many Indian sports lovers. Specially displayed.How is this
time a special one of the upcoming ODI World Cup 2023 and people have released our
airport official logo to know how the glimpse of Indian culture is visible in people. Let
us tell you that on completion of 12 years of India's 2011 World Cup victory, the ICC has
decided on April 2, 2023.
Significantly, the ODI World Cup of 2023 is to be played in India only this year. ICC has
released the picture of the people of the World Cup 2023 along with a video on its
official Twitter account. The World Cup 2023 released by the ICC is special because it
depicts the Cricket World Cup as a fast. In this Navras, happiness, strength, sorrow,
pride, bravery, glory,Along with the wonder and passion, there are emotions that go
along with the World Cup. It is noteworthy that the upcoming ODI World Cup 2023 to be
held in India will start from October 5, whose final is to be played on November 19.
Largest of 50 overs cricket played every 4 years. of MahakumbhThe 2023 edition is
being held in India after almost 12 years. The ODI World Cup to be played in India will
be held in 12 cities. 3 not out in the tournament which lasted for 40 days. Total 48
matches will be played. This time 10 teams are participating in the World Cup. as per
reports
Will be played in Lucknow, Chennai, Bengaluru, Dharamsala, Guwahati, Hyderabad,
Kolkata, Indore, Rajkot and Mumbai. The Indian cricket match regarding the World Cup
2023 has already started. Cricket team India captain Rohit Sharma, who is
continuously praying for the victory of Team India for the 2023 World Cup, has
confessed to trying hard for the victory of Team India in the World Cup. By the way, let
us tell you that the last time India won an ICC tournament was in 2013. In 2013, Team
India was the winner of the ICC Champions Trophy played in England.