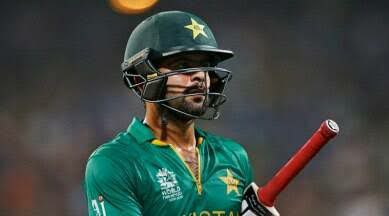 Such stories are often heard from the field of sports, where a conspiracy is hatched to
end a player's career, despite being in the team, the players are not given opportunities.
But in Pakistan, something much more happens than this and one such shocking story
of Pakistan was told by an international cricketer of Pakistan himself. Actually this
cricketer told that to kill him Poison was given to kill him and if he had not been treated
in time, he probably would not have lived in this world as well, and thus he became an
angel for this. Pakistan's former captain Shahid Afridi, a member of the Pakistan team,
was poisoned. To save whose life Shahid Afridi spent money, became an angel, watch.
Imran Nazir has revealed that if Shahid Afridi had not shown generosity for him while he
was alive and had not spent ₹700000 from his 50s, he might have been handed over in
this world as well. Imran Nazir told the story of Shahid Afridi's generosity and said that
when I was recently treated, m.r.i. And the rest of the tests revealed that I was
poisoned. I was given mercury which acts or gets into your joints and causes damage.
Every joint in my body was treated for 8 to 10 years. Even after this, I used to pray to
the almighty that don't let me fall on the bed, I used to keep walking even when I was
sick. According to Imran Nazir, he does not know who poisoned him with slow poison
or even after death because the doctor it happens in the body of any human being after
about 5 to 6 months or sometimes after eight months. That's why Imran Nazir cannot
say anything about who conspired with him. But many such reports have come in
Pakistani media only. Life. The one who had enmity with Imran Nazir was himself a
cricketer along with his own team. I go to Lalbagh. Generosity of Shahid Afridi That
this is not the first time when Shahid Afridi did any kind of help for any Pakistani
cricketer. The former Pakistani captain is very busy with charity in his country. On
many occasions, Shahid Afridi has also sought help from Indian cricketers for this
charity because Shahid Afridi came to his aid at a time when he needed help the most.
According to Imran Nazir, he had a meeting with Shahid Afridi and within 24 hours of
the meeting, ₹ 500000 had reached the doctor's account for his treatment. I had a
meeting with Shahid Afridi and he got the money transferred to my doctor's account
within 1 day. He didn't ask even once how much money it would cost. He told the
doctor to spend whatever money it takes, but my brother should be fine. 50 to ₹
700000 was spent in my treatment and he.
According to Imran Nazir, he did not think even once before giving, he is ready to
express openly in front of everyone that his helping angel was none other than Shahid
Afridi. The special news of cricket is given first.