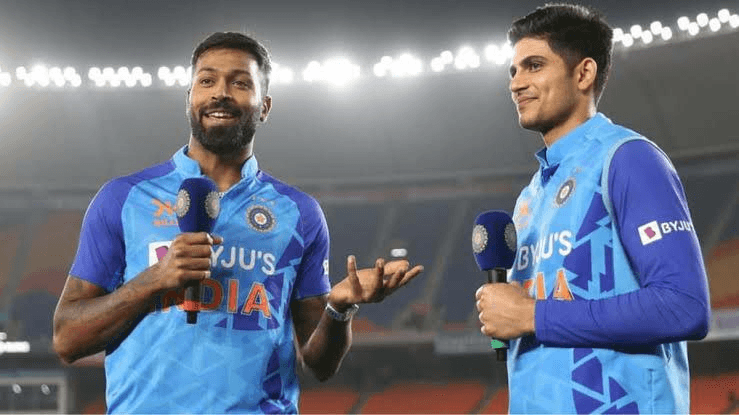 In the year 2023,
Team India is rocking one after the other these days, T20 captain Hardik Pandya has
achieved another feat, now Hardik Pandya is just one step away from becoming ICC's
T20 number one creator. That's right, Hardik Pandya is just one step away from
becoming the number one T20 player. The ICC has released its latest T20 rankings and
Hardik Pandya, for his stellar performance in the last T20 series against New Zealand,
as well as Team India's Young sensation Gill has made a big profit, so how this time
there have been many vicissitudes in T20 rankings, how Hardik Pandya has now spread
his fire in this new ranking, also see our report of Team India's T20 Captain and star allrounder Hardik Pandya has made a big difference in the latest ICC T-20 rankings. In
fact, Hardik Pandya has reached his best ICC ranking in T-20 International career as an
all-rounder. Hardik Pandya recently finished T-20 against New Zealand
Hardik, who performed brilliantly in the series, has now moved to the second position
in the all-rounder rankings. Hardik has 250 points in the latest T20 rankings, just two
points behind Bangladesh's Shakib Al Hasan, who is at the top with 252 points.
Afghanistan's Mohammad Nabi is on the third position in the ranking, Sri Lanka's
Wanindu Hasaranga is on the fourth position and Namibia's Jesme is on the fifth
position. Hardik Pandya is considered to be the biggest reason for Team India's defeat
during the T20 World Cup played in 2021. Getting back to full fitness has been a big
advantage for the Blues in the last one year, whether it was opening the bowling in the
first over of the match or storming the batting on occasions. Hardik Pandya Team
India's big matches Not only the winner, you are also the future captain in the short
format. In the fourth T20 played against New Zealand in Ahmedabad, Hardik took four
wickets by giving sixteen runs. were made of Earlier
Hardik's performance in the home T20 series against Sri Lanka was also an important
link in Team India's victory. Shubman Gill, who scored 126 runs in 63 balls in the T20
match against New Zealand in Ahmedabad, also gained in T20 rankings. Hai Twenty
Rang has jumped 168 positions to reach a career-best 30th T20 ranking, while fast
bowler Arshdeep Singh has now moved up eight places to thirteenth in the rankings,
while Suryakumar Yadav is still in T20 ranking. Apart from this, Afghanistan's spinner
Rashid Khan is the number one bowler in T20 bowlers, however, let us tell you that even
though Hardik Pandya is now trying to snatch the number one all-rounder chair from
Shakib Al Hasan in Twenty20 cricket. Despite this, it will take at least four to five
months for Hardik to overtake Shakib as the Australian team currently on India tour will
play only one-day series after the Tests, after which the team will return to India.
K cricket will be busy in IPL season sixteen for every two months and then it was
possible that Team India will go to England to play the final of World Test
Championship in June, in such a situation Team India will get a chance to play their first
T20 International series in the month of July.