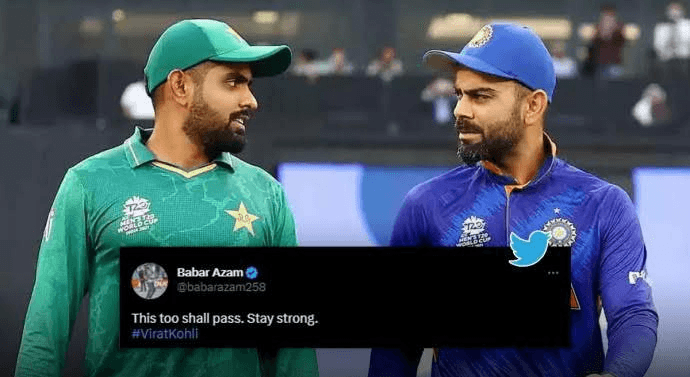 Like many big stars of world cricket, the fans of Pakistan cricket team captain Babar
Azam are also present in India, but the number of fans of Babar has suddenly increased
in India. The last year has gone through a period of bad form. Babar Azam had
expressed his sympathy for Virat Kohli on social media in front of the whole world.
Babar Azam's tweet written for Virat Kohli on 14 July 2022 was appreciated all over the
world. Even Virat Kohli himself thanked Babar on social media, thanking him for his
support. Babar Azam, who gained special respect in the hearts of Indian cricket fans
with just one tweet, has broken his silence about the same tweet after about 6 months.
Actually Baba Ramdev has revealed why he voted for Virat Kohli.
Anyone can go through such times as a sportsman. I thought if I tweet maybe it will
help someone and give them confidence. See, as a player, you try to support every
player in difficult times.
Significantly, Virat Kohli was going through the worst form of his career in 2022. For
almost 3 years, Virat Kohli's bat had failed to play big innings in international cricket.
From IPL to every stage, Virat Kohli's bat was proving to be a failure. Then in the test
played in England during the same period, after the flop show of Virat, the discussions
about his retirement from cricket started gaining momentum, but showing greatness
like any big player, Babar did not do anything without the cricketer of the opposing
country like India. cared about. The special thing that showed his sympathy was that
Jaswant Babar tweeted. During that time he was scoring well. In his tweet written on
July 14, 2022, Babar had written that this too shall pass, stay strong.
In reply, Virat Kohli had written praising Babar while replying. Kohli wrote. Thanks keep
shining and keep reading. Best of luck to you In reality, Babar Azam should openly
show the world that even if the players of the two teams are bitter rivals while playing
against each other on the field, but outside the field, every player wants the sympathy
and well-being of the other player. Tell Babar Azam
It is only in difficult times that you come to know what you are thinking of others. At
that time I thought that I should do this and maybe something positive will come out of
it. Something that can be a pluspoint. By the way, it is a coincidence that after this
suite of Babar Azam, Virat had taken a break from international cricket for six weeks,
after which Virat Kohli returned in excellent form in the Asia Cup. Virat Kohli also met
Babar Azam at the Asia Cup itself. Thi and then with Babar Azam in the Asia Cup.
The picture of Virat Kohli shaking hands went viral on social media. During the same
Asia Cup, after a long time, Virat ended the drought of his incomplete centuries in T-20
cricket, then Virat became the highest run-scorer of the tournament in two T-20 World
Cups as well. Virat played 53 balls against Pakistan in T20 World Cup 2022 the innings
of 982 runs also proved to be a big reason for Team India's victory. Since the Asia Cup,
Virat has so far scored three centuries in ODI cricket. Now the fans are waiting that
after T-20 and ODIs, Virat Kohli's bat will definitely end the drought of his centuries in
this format in the ongoing Test series against Australia.