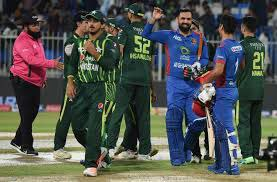 A three-match T20 series is going on between Afghanistan and Pakistan. This series is
going on. In Sharjah where Afghanistan team has created a big history in T-20 cricket.
This history was not created by anyone else but Afghanistan under the captaincy of
Rashid Khan because Afghanistan also won the second T20 match against Pakistan
and now for the first time in the history of cricket in Afghanistan, Pakistan has been
defeated in a T20 series so far and so far. proving to be great because here Pakistan's
team has been forced to constantly kneel in front of Afghanistan. The first match was
also won by Afghanistan while the second match was won by Afghanistan in a thrilling
way and created history. First of all, what happened in this match due to which
Pakistan team had to lose the second T20 match as well?
Pakistan had decided to bat first after winning the toss and Pakistan's team could only
score 130 runs at the loss of six wickets. Team Commissioner could not even open the
account while Mohammad Harris scored 15 runs, while Abdullah Chapi once again
proved to be a flop. This is his fourth duck in a row. When he came in, Malvati played a
good innings here, in which he scored 64 runs in 57 balls.
Fours and 2 sixes were included. Whereas, captain Shadab Khan scored 32 runs in 25
balls and somehow Pakistan's team could score 130 runs in 20 overs at the loss of
wickets. Funny now let's talk about Afghanistan's bowling Farooqi took two wickets
while Rashid Khan got one wicket. In the chase, Afghanistan's team made very good
starts while Usman Nani was dismissed after scoring 7 runs and Ibrahim Vardan. And
so everyone got out while Najibul scored 23 runs. At the same time, Mohammad Nabi
once again proved to be the hero who scored 14 runs in 9 balls and Afghanistan's team
won the match in 5 overs. Along with this, Afghanistan also made a big record because
till date
Before the Afghanistan team, in T-20 matches in the history of cricket, they could not
beat Pakistan in the T20 series. This was the same uncle's ground where the Haija Asia
Cup was held and a heated argument was also witnessed between Afghanistan and
Pakistan, but now the Afghanistan team has completed its revenge. If we look at these
three, Rashid Khan is the captain of Afghanistan, then Afghanistan has won both the
matches against Pakistan under his captaincy. created history because never before
Afghanistan could not beat Pakistan in the T20 series. With this, Pakistan had taken
some important decisions for this series because after the Pakistan Super League was
over, Baba Raja Mohammad Rizwan. Uncle Preeti had given break to star players like
Harish Rao, but the loss of this break was to Pakistan and Pakistan was second.
The T20 match has also been lost. Before this, even in the first match, Pakistan could
not cross the 100-run mark and easily won the match in Afghanistan and created
history by winning the second match in a thrilling way. Now it will be interesting to see
whether Afghanistan makes a clean sweep over Pakistan or whether Pakistan will be
able to save its honor in the last match.