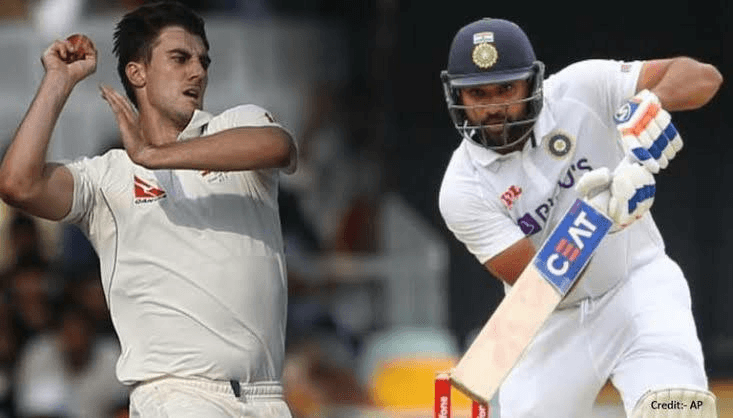 Team India is the favorite to win the You the Border Gavaskar Trophy, but in this series,
only Team India captain Rohit Sharma can prove to be the weakest link for Team India
and the main reason for this is that Rohit Sharma has only two Test matches as Test
captain. Anubhav Yes, you heard it right, Rohit Sharma is going to play his third Test
match as Test captain against Australia and this less experience of his captaincy in
front of Pat Cummins can prove to be a weak link for Team India, on the other hand Pat
Cummins will also be seen leading Australia against India for the first time in India, so it
can be said directly that what is going to happen if both the captains will be seen
playing against each other for the first time? An interesting battle of captains between
Rohit Sharma and Pat Cummins as well, watch our report to know who can dominate
the other as captain in this series as the opening date of the Test series between India
and Australia draws closer. India full of star players is getting more and more excited
about the Test series
And in Australia's Test series, there will be a clash between many big players, but in this
series, a special battle is also going to be seen between two captains, in fact both India
and Australia teams will play Border Gavaskar Test with new captains this time. The
series is being played where Rohit Sharma is leading the Indian team while Pat
Cummins will be seen captaining Australia. Both players have not played against each
other as captains in Tests. Rohit Sharma will be captaining Australia for the first time.
Rohit Sharma has played only two Test matches as Test captain so far, he will play his
third Test match as captain against Australia while Pat Cummins as captain for
Australia. Rohit Sharma has played a total of thirteen Test matches, the experience of
Rohit Sharma's Test captaincy is slightly less in front of Pat Cummins, in terms of
performance, Team India has won both the matches under Rohit's captaincy. matches
Rohit's highest score of forty runs in four innings of these two Tests has been able to
score ninety runs at an average of thirty, while Cummins has so far won Australia in
eight matches in thirteen matches as Test captain, while one The match was lost by
Australia and four matches ended in draws. Take fifty wickets at an average of 1/2 as
captain Rohit and Pat Cummins figures say anything but in Nagpur only Team India has
a good chance to beat Australia Team India at New VC Ground in Nagpur since 2010
Team India is not eyeing to win the fourth consecutive series against Australia. India's
last defeat in the series against Australia was in 2014 and 15, while Australia's first and
only series win in India was about nineteen years ago in 2000. Team India in Nagpur
was achieved in four out of five Test matches against Australia after about fifteen years
Talking New VCA Stadium of Nagpur.
Team India has won four out of the last six Test matches, where they lost to South
Africa here in 2010, while the Test match played here against England in 2012 On the
other hand, for Rohit Sharma personally, the Border Gavaskar Test series has come as
an opportunity to regain his old mark in the longer format of cricket. Rohit scored his
last century in Test cricket against England on February 13, 2021 in Chennai.