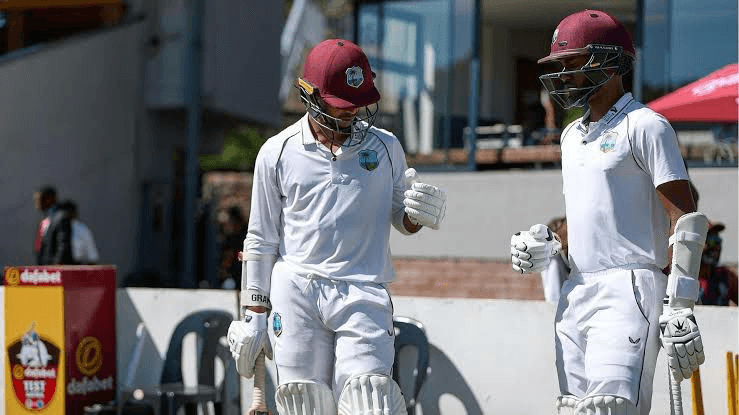 Although the history of Test wickets is 145 years old and in this 145 we have seen
many records of cricket made and broken, batsmen scored centuries, bowlers took
wickets, there are some such records which are counted in catches i.e. But after one
hundred and forty five years now made a record which probably no one had thought
because only two batsmen saw us while batting for five days so let us tell you in this
report that finally the West Indies batsmen Which record has made such a commodity,
now it seems impossible to break History in cricket can be created against any team at
any time and this thing has proved to be true, at this time West Indies are on a tour of
Zimbabwe for two Tests, Where is a big record West Indies broke in one hundred and
forty five years of cricket? An unwanted record was set on the last day of the first Test
when Caribbean batsmen Chris and Tejnarine Chanderpaul took the field to propel the
West Indies innings on the fifth day.
On the first day of the match, the West Indies won the toss and decided to bat first, due
to rain on the first day only 51 overs could be played, and Tejnarine Chanderpaul
returned not out after scoring 55 runs on the second day due to rain. The game could
not be played, after that Prithvi and Chanderpaul came down to take the innings
forward. Till the end of the second day's play, West Indies' score was 221 without any
loss. Chanderpaul returned not out after scoring 171 runs on the third day.
Chanderpaul, who was dismissed after scoring two hundred and seven runs, returned
not out, on the fourth day, Zimbabwe declared the innings by scoring three hundred and
eighty-nine runs for nine wickets, and again came down to open the innings of the West
Indies, and both returned not out on the fifth day as soon as they Both landed on the
field, this became a unique record. In the history of one hundred and forty-five years of
cricket, the openers did not bat for five days. is now looking quite difficult as it has
never been.
Sometimes it happens when the opener of a team bats for five days, while Tejnarine
Chanderpaul, son of legendary batsman Shivnarine Chanderpaul, also created history in
the same match. Chanderpaul also had a match against Australia in 2022. Ek
Narayan's father Shivnarine Chanderpaul has scored a double century in Tests. He is
the second father-daughter duo to score a double century in Tests. Prior to this, the
first father-son pair to score a century in Tests for the West Indies in a Test match was
also made, whereas in Test cricket, the father-son pair has come at number 12, who
have scored centuries in Test cricket. Well history has been made in test cricket and
history will be remembered in cricket for years now it has to be seen whether anyone
can break this record or it becomes immortal in cricket.